A "Two-fer" Bookmark!
Carolyn Groves (copyright 2003)


Doesn't everyone love a bargain? Well, here's a good one! One pattern 2 different bookmarks!


I'm sure almost everyone will recognize the square motif. It has been used in one form or another for years. I didn't go looking for the pattern though. I had the idea of what I wanted and started building from it.


For this bookmark I didn't want a lot of picots. I wanted the lines to be clean and crisp. Originally I was planning on doing only the corner bookmark but after working one motif I realized that it could also be used to do a standard straight bookmark.


This small motif can be slipped over the corner of the book to mark your spot. By working 2 motifs joined on 2 sides a simple pocket is formed that fits nicely.


Worked in size 8 thread (or smaller) the bookmark is thin but sturdy enough for its job. An added tassel gives a bit of elegance to it.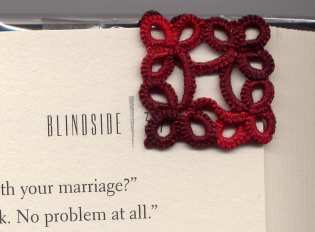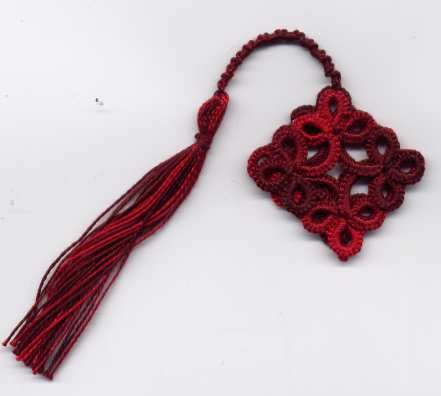 The motif is 4 clovers with chains of 15 ds between.


Clover: R 10-6-4, R4+6-6-4, R4+6-10.
Each ring has a total of 20 double stitches in it. The side rings have a division of 10, 6, 4 and the center ring divides as 4, 6, 6, 4. each picot eventually joins to either an ajoining side clover or to a center ring of another motif.


Work clover, C15, clover (join to last ring of previous clover), C15, clover (join to last ring of previous clover), C15, clover (join to last ring of previous clover and to first ring of first clover), C15. Join last chain to base of first clover.


Be careful to keep chains and clovers flat and not twisted.





When done as to the left, 5 motifs make a nice "manly" bookmark. The end tassel is done by working a chain of zig-zag stitches connected at the corners and the center joined rings point. Then the 3 are tied together and a tassel is attached.


Click here to see diagram of motif
details of "turning the corner"