Patriotic Tatting


I have been asked recently for earrings and necklaces in red, white, and blue. I started looking through my books and decided to use some of Dianna Stevens patterns with beads(from Forget-Knot Alaska, Tatted Jewelry) and the necklace pattern from the Online Tatting class with Nina Liben. Here are a couple of examples of them.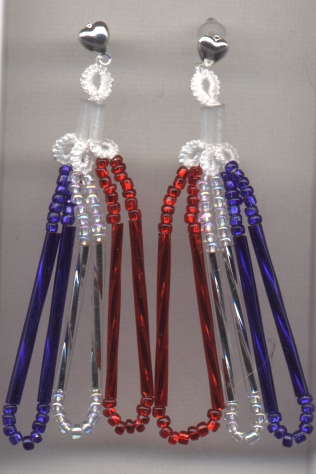 The earrings on the left are Dianna Stevens' pattern "Tsunami. Worked with 25mm bugle beads and silver lined red, white and blue seeds.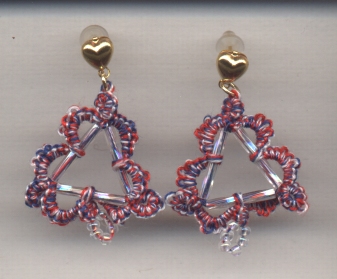 The triangle earrings on the left are adapted from Dianna' Fireweed pattern. The necklace on the right is from Nina Liben's Online Class (11/13/2000). I used one strand each of red, white and blue embroidery floss. The necklace is approximately 16 inches long.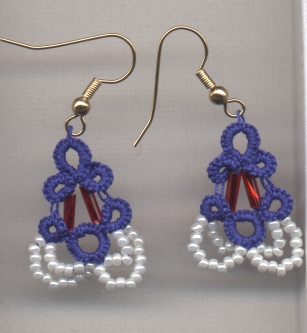 These earrings (on left) are also from Dianna's book. They are called Susitna Tears and I thought it was very appropriate to work them in red, white and blue.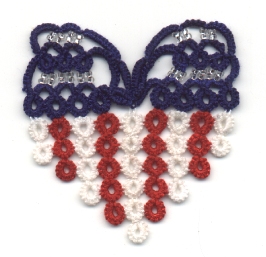 When Nancy Corns put her "Old Glory" heart online I immediately started working it. The first one was exactly to her directions but then I had to play. I worked the one on the right with size 8 perle cotton. I also strung the seed beads onto my blue thread and put 4 beads in each picot. Then I was able to do my next join between bead 2&3. I also reduced the rings to 3 ds between picots.

Click here to return to my Home Page