Enfilade, Past and Present
Harper's Ferry by James C. Groves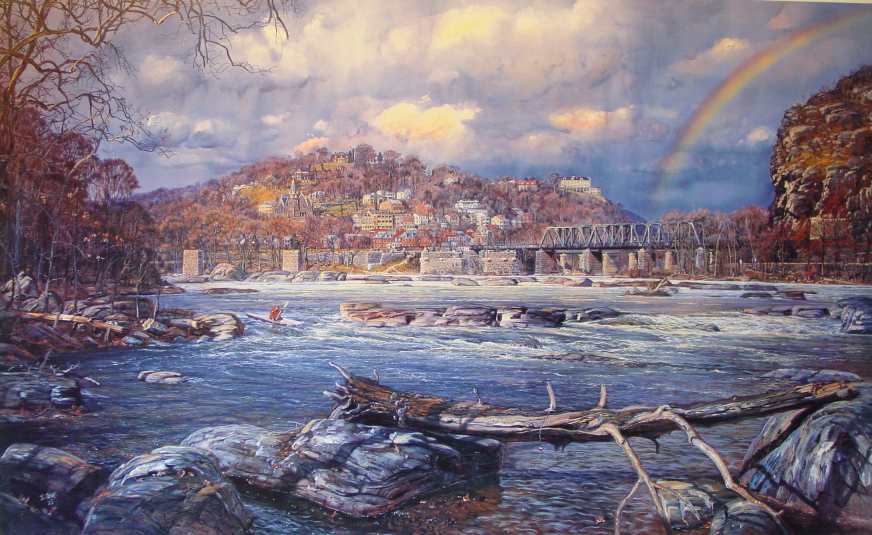 [Note: this on-line image is compressed to supress downloading detail. The actual LTD art print is sharp and clear in definition.]
Marvelous! The perfect gift for Civil War, History and Harper's Ferry enthusiasts! Mr. Groves has painted the ultimate oil rendition of this quaint and scenic town. Those who have marveled at this National Parks' natural beauty and rich history will treasure this limited edition print of the historic town and environs. From Jefferson Rock, to John Brown's Fort, to the old B&O RR tunnel, more than 60 points of interest are visible. Explore the artwork by finding 43 tourists among the rocks, cliffs and trees. Image size measures 14.5" x 24". Edition size is 2000 signed and numbered by Mr. Groves. Our special price is $75 each print plus $10 shipping/handling per tube. Up to three prints can be shipped in a single tube. (Md. residents add $4.50 tax per print). A flawless and colorful art print, Enfilade will certainly draw wonderment and smiles from every visitor to your home.

All art prints shipped in heavy-duty containers.

Fast, courteous and reliable service - always!
Info, Ordering: 301-689-3389 10am-5pm EST Tues-Sat, VISA/MC or send personal check/money order to: